Okay guys, so when this sh*t show ends you may as well have your wardrobe 100% raring to go with an edit of key pieces to take you into whichever season it is by the time we're allowed out again…

With weeks, maybe months, still to go in our new isolation lives, take some time out of your days doing sweet F.A to give your wardrobe a cleanse – at the very least, it'll make you feel productive. Every decent wardrobe begins with a core group of essential pieces. The evergreens. The ones you turn to every week to help you assemble your looks. These items are the backbone of your wardrobe. They will help you elevate every ensemble so that you're always looking polished and on point. If you start with a decent army of perennial pieces, choosing and styling everyday outfits will become less laborious and more appealing. Hell, you may even enjoy it. As the eCommerce industry is one of the only remaining sectors still ticking over, you may as well take advantage of this opportunity to slot some new core essentials into your wardrobe, ready for the post-pandemic you to start living your best life. Below are my personal top ten wardrobe pieces that I wear all year round – Coronavirus times or non-Coronavirus times. FYI: some of these pieces I own and some are pieces I'm going to invest in. Stay sane everybody…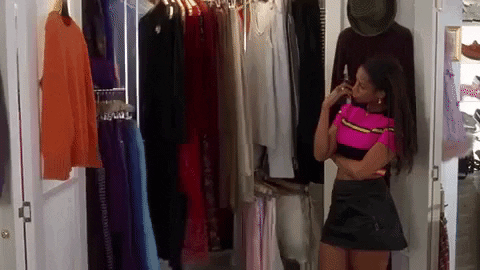 1. A Good Quality White Tee
Just an absolute bare-minimum staple. Go for one with a high neck, nice ribbed detail around the neckline, slight oversized slouchy fit and wide, long sleeves. Wear with literally anything in your wardrobe. If I could get away with wearing a white tee every day, I would.
Weekend Tshirt in White, Topshop, £7.00
2. A Khaki Cotton Jacket
You'd be surprised at how much khaki goes with. This is your more casual, laidback throw-on jacket for weekends. Try and find one with a bit of intrigue. I own this particular piece below and it's super versatile due to the belt; cinched in it looks super smart and without the belt altogether it's perfect for a country walk (been doing plenty of those recently).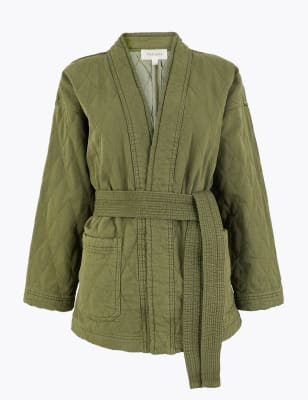 Denim Quilted Kimono Jacket, Per Una at M&S, £49.50
3. A Statement Ankle Boot
If you know me at all you'll know that I am an absolute sucker for white ankle boots – virtually obsessed. You can throw them on with any outfit and they instantly elevate a look in a modern and fresh way. And no, they do not get as dirty as you may first think, you just have to avoid splashing in muddy puddles.
Spirit Boot – Bone Croc, Dear Frances, £422.61
4. A Light Wash Blue Denim Jean
Stick to a simple straight cut and ensure that the length hits just above the ankle so you can wear with a boot or a shoe/trainer. Anine Bing denim is worth the cash as she gets the wash and the fit spot on. Also, no zips should be allowed on jeans, it's all about the button up.
Etta Jean – Washed Light Blue, €229, Anine Bing
5. A White Lace Up Trainer
I mean, again, just a necessity. I wore this Eytys pair all last year and loved how minimal and understated they were – no fancy gimmicks. The shape is very similar to a classic Vans however the sole is chunkier; the higher the sole, the more flattering they will be for your silhouette. Wear them with whatever you fancy.
Mother Canvas Sneaker, Eytys, £100
6. A Black Leather Crossbody Bag
I feel like crossbody bags are just the way to go in general. Handbags feel very Paris Hilton during the early Noughties. You can fit just as much crap in them and they're much more functional to lug around. Opt for classic black and make sure it's genuine leather so that it'll last you years.
Black Real Leather Crossbody Bag, & Other Stories, £165
7. A Prairie Style Blouse (or two, or three)
Just the ultimate way to feminize any outfit and to feel oh-so-pretty on a bland and boring Tuesday. I always opt for a broderie Anglaise detail as I just think they're so timeless and have that French-chic effortless vibe we're all aspiring to have. Remember to tuck in the front when you wear with jeans or trousers.
Blouse With Embroidery, £25.99, Zara
8. A Classic Pair Of Sunnies
Even in Blighty the sun shines occasionally in Winter so investing in a premium pair of sunglasses should not make you feel guilty at all, just don't sit on them. I always opt for a Ray-Ban round metal as they create a slight rock-and-roll aesthetic. With sunnies, I say go with a shape that flatters you and stick with it forever.
Round Metal Ray-Bans in Gold/Green, Sunglass Hut, £131
9. A Pendant Necklace
A very current trend but one I have fallen in love with. There's just something super chic about wearing a single, gold pendant necklace every day. I wear one with my zodiac symbol on it because I'm that sort of person but Cali Tiger has some gorgeous designs for great value.
18k Gold Plated Cali Coin Necklace, £49.88, Cali Tiger
10. A Timeless Trench Coat
If we weren't confined to our homes I'd tell you to invest and wear this now however I do believe that a trench is for life, not just for Spring. Choose a slightly oversized shape so that there's room for a jumper under there when we transition from Summer to Autumn. A well-structured collar is also a must.
Double Breasted Trench, £149, Mango